Hasegawa Publishing Company Catalog:
"Catalog of Japanese Colour Prints, Illustrated Books, Etc."
Circa 1920
This catalog was published by the Hasegawa Publishing Company, operated at the time by Y. Nishinomiya (the successor of T. Hasegawa), sometime around 1920, and consists of 44 pages including inside and outside covers. Listed shin-hanga artists are:
Suzuki Kwasson (1860-1919)
Yoshimune
Watanabe Seitei
Shoso
Koho

Yoshimune
Gesso
Kyosui
Oide Toko (about 1860-1910)
Of greatest interest to shin-hanga collectors will be the listings of e-hon from the "Japanese Fairy Tales" series (pages 2 and 3), the extensive listing of Koho landscape prints (page 31 and 32), and the listing of all 21 prints (images of 20 only) from the "Hasegawa Night Scenes" series (pages 37 to 41).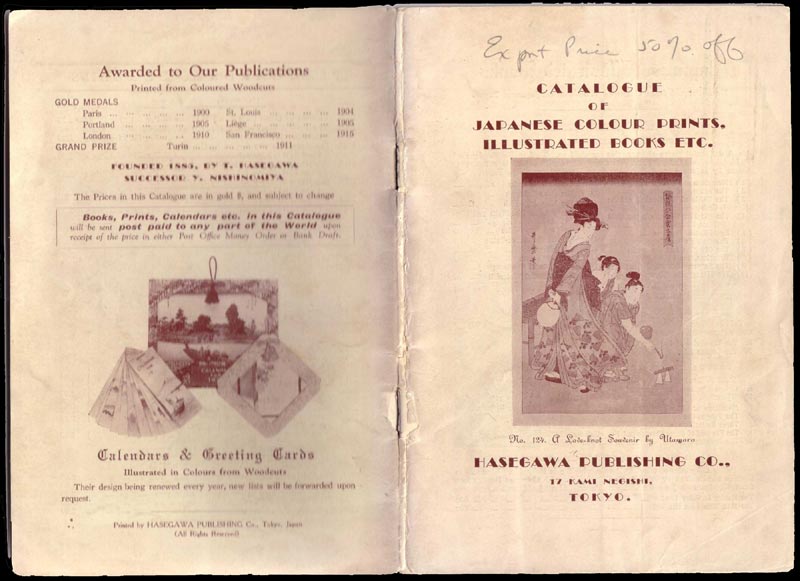 To last page

Front and back covers

Next page
Hasegawa Publishing Company 1920s catalog summary

Front and back covers

Pages 2 and 3

Pages 4 and 5

Pages 6 and 7

Pages 8 and 9

Pages 10 and 11

Pages 12 and 13

Pages 14 and 15

Pages 16 and 17

Pages 18 and 19

Pages 20 and 21

Pages 22 and 23

Pages 24 and 25

Pages 26 and 27

Pages 28 and 29

Pages 30 and 31

Pages 32 and 33

Pages 34 and 35

Pages 36 and 37

Pages 38 and 39

Pages 40 and 41

Pages 42 and 43

---