Mystery Hanshita of Tsuchiya Koitsu's "Ushigome Kagurazaka" Print
By Tosh Doi, December, 2002
Update 2009: see an exciting sequel to this 2002 article in the recently published Koitsu Raisonne
Some time ago, a nostalgic woodblock print was on sale at an exhibition corner of a department store in Tokyo. I recall it was a summer holiday in 1995, a time when I had no knowledge of artists and publishers of shin hanga. Anyway, I purchased that print without hesitation partially because it illustrated a big lantern with the name "DOI" as a restaurant sign -- a name that, by chance, happens to be the same family name as mine. A few years later I recognized it was a posthumous print entitled "Ushigome Kagurazaka" by Tsuchiya Koitsu, which was originally published by Doi Sadaichi1 in August, 1939.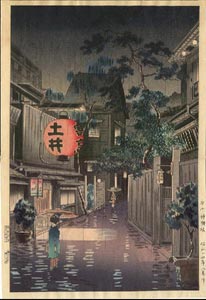 Since then I have learned more about shin hanga history including artists, publishers, carvers & printers, and I have devoted myself to collecting Tsuchiya Koitsu's prints because of the beauty of his nostalgic landscapes. Tsuchiya Koitsu had been working for the publisher Doi Sadaichi1 during the period 1933/01 through to 1941/07. I have so far confirmed that as one of a handful of well-known shin hanga artists, Koitsu depicted as many as 61 masterpiece landscape prints (excluding flower/bird prints and smaller-sized prints such as postcards because of no publishing date notation) via the Doi publishing house. In the meantime I have been aggressively researching various versions of his prints in order to prove my speculative theory that all of Koitsu's original prints must have been printed and published together with the Doi Sadaichi publisher seal via Koitsu's direct involvement in deciding colors and trial printing procedures. So far I have been able to confirm that 39 out of his 61 prints (64%) were published under the Doi Sadaichi publisher seal using various sources of information containing legible print images. Detailed result would be disclosed in due course.
During my recent research efforts I happened to find a mysterious hanshita (containing black ink keyblock outlines) for the print "Ushigome Kagurazaka", which is one of the most memorable prints during my woodblock print collecting career. If you are a Koitsu print collector, this hanshita might seem like a new and interesting mystery find. So I am pleased to tell you the whole story as follows:
As you may know, Chigasaki Museum held an exhibition of Koitsu's woodblock prints in January, 1996, and published the only available reference of Koitsu's works. In August of 2002 they also exhibited another Koitsu exhibition because they successfully secured all twelve prints of his "Tokyo Views Series". When I received notice of the exhibition, I personally contacted Mr. Yuji Nishiuchi, who is a curator of the Chigasaki Museum, in order to get additional information on Koitsu himself as well as on his prints. My visit to Chigasaki Museum was very productive because I was able to reconfirm that all twelve original prints of the "Tokyo Views Series" by Koitsu were undoubtedly published using the Doi Sadaichi publisher seal with respective original carver & printer seals in offset boxes in accordance with my speculative theory. In addition, Mr. Nishiuchi was kind enough to show me a bundle of sketch drawings practiced by Koitsu during his lifetime. These sketches contained various kinds of pictures traced from prints of famous artists for the sake of Koitsu's own study and practice. Then I noticed that the bundle's paper binding cover had a faint drawing with black ink key outlines, although it was reversed and glued to the cover. At first I thought it was one of his practiced drawing copies, but on closer inspection I found it looked like my familiar print design of "Ushigome Kagurazaka".
Please refer to the attached hanshita copy (Figure 1) which I gratefully received from Mr. Nishiuchi. For a while I didn't pay any special attention to its detail, however, later I discovered to my great joy that I could read the kanji characters for "FUJII" on the lantern instead of the usual "DOI" characters which appear on all currently known copies of this print. Moreover, after closely comparing my print and this hanshita I noticed additional balcony area with stretched outlines above the lantern, while I had never recognized such changes on any existing prints of the same design.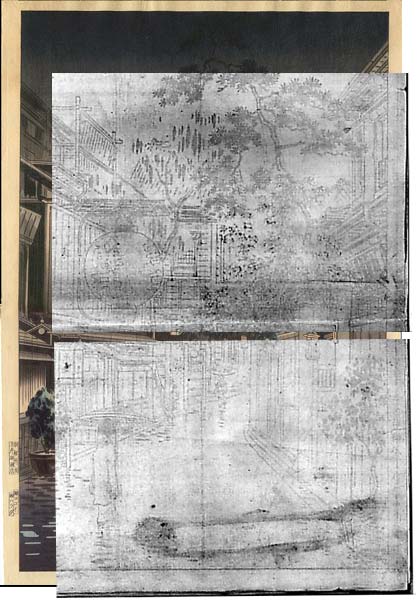 Figure 1: Hanshita of Ushigome Kagurazaka overlaying a full-colour version of this woodblock print
Ross Walker kindly prepared GIF animated images (Figures 2 and 3) comparing this hanshita to the most popular "Ushigome Kagurazaka" print image with Doi Hangaten publisher seal plus Yokoi printer and Harada carver seals. He also pointed out other differences such as extra tree leaves over the window of the two-story house in the centre, and the lowered roof of the rear house. You can notice such differences, can't you? I think you will agree that this is an exciting find!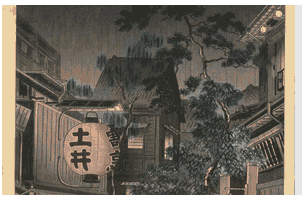 Figure 2: Upper-half of hanshita of Ushigome Kagurazaka overlayed on a full-colour version of this woodblock print. Visible differences between the hanshita and colour print are the addition of a balcony on the upper left, 'Fujii' characters on the lantern (instead of 'Doi') and an extra tree branch in centre of the image.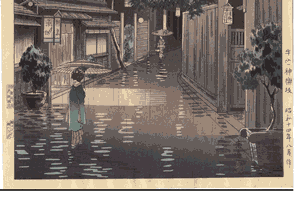 Figure 3: Lower-half of hanshita of Ushigome Kagurazaka overlayed on a full-colour version of this woodblock print.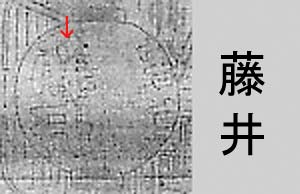 Figure 4: Enhanced image portion of the lantern (left) and kanji characters for 'Fujii' (right). Comment by Ross: It may be difficult for non-Japanese (like me) to see the upper character clearly. However, it is clear that the character is not the 'To' character of 'Doi' as shown in the full-colour print above, and on close inspection it is possible to determine that the character is indeed that of 'Fuji'.
Tsuchiya Koitsu probably held such original hanshita with him because, as an artist under the publisher Doi Sadaichi, he had to determine the final colours for this print. You should also note that those sketch drawings were donated to Chigasaki Museum directly by Ms. Masa Tsuchiya, Koitsu's first daughter, who lives in Chigasaki city at present. Therefore, the attribution of this hanshita to Koitsu is undoubtedly reliable, and it is my belief that this hanshita must be the basis for the first edition of the "Ushigome Kagurazaka" print published in August, 1939. Hopefully, in near future, someone might discover this original full color print that matches this hanshita and which must bear the Doi Sadaichi publisher seal with respective original carver and printer names on it. Once we can confirm the existence of this original full color print, we have to discuss when, why, by whom and whether its key block were later recarved, either partially or entirely.
Please enjoy this mystery hanshita story and let me know your frank comments on this article.
Tosh Doi,
Tokyo.
Footnotes:
1 The name 'Sadaichi' is an alternative reading of the kanji character combination that is most commonly known as 'Teiichi' in the shin-hanga world. There is now strong evidence to suggest that the founder of the Doi publishing house used the name 'Sadaichi' in his professional dealings, while using the alternate reading 'Teiichi' among is family.
---
©2002, Tosh Doi and Ross F. Walker.